Time stamping is an important mechanism for the long-term preservation of digital signatures, time sealing of data objects to prove when they were received, protecting copyright and intellectual property and for the provision of notarization services.
Our Time Stamp Server works as an IIS application for most Windows webservers. It means that it is not required to operate an extra TSA machine.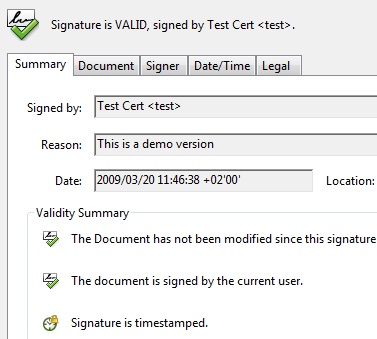 Benefits:
– IETF RFC 3161 and IETF RFC 5816 compliant
– Follows the basic guidelines from ISO/IEC 18014-1:2002, ISO/IEC 18014-2:2002 and ISO/IEC 18014-3:2009
– Microsoft Authenticode and Java Signature compliant
– Works with HSM (Hardware Security Module) devices
– Support for CNG (Cryptography Next Generation) certificates
– Support for ESSCertID and ESSCertIDv2 according to RFC 5816
– Easy to use through friendly programs like Adobe Acrobat or PDF Signer
– Compatible with Microsoft Office 2010/2013 XAdES-T or higher digital signatures
– Supports up to 4096 bit RSA keys
– SHA256, SHA512 support
– PKCS#11 support
– MS-CAPI support
– Up to 20 timestamps per second
Requirements:
– Windows operating system with IIS
– Microsoft .NET Framework 4.0
Our Time Stamp Server is compatible with Adobe Acrobat products. PDF Signer product includes time stamping feature so every document digitally signed by PDF Signer can be time stamped automatically using our Time Stamp Server.
The Time Stamp Server is compatible with Microsoft Office 2010/2013 and it can be used to create XAdES-T or higher digital signatures.
Licensing:
The license for Time Stamp Server is a lifetime license. There is no additional cost like monthly / annual fees or fees per use. When a new version is released you can continue using your purchased version as usual.
The technical support and updates are free for 12 months after purchase. If you need help with our software, please contact us to receive prompt assistance from our technical support team. We offer free before-and-after purchase technical support for our programs. Technical support is provided by email only. Email response time is usually less than 24 hours.
60 Day Money Back Guarantee – If you are not pleased with our software for any reason, you are entitled to our 60 day no hassle, no questions asked, money back guarantee.
Product
Price (€)
Buy with PayPal
Buy with credit card
Time Stamp Server (Lifetime License)


2350 EUR


1450 EUR
Technical Support
The technical support is free for 12 months after purchase
If you like to pay by Bank Wire Transfer, please fill this form.
A fully functional version of our Time Stamp Server (RFC 3161 compatible) is available for testing purposes at the link below.
Time Stamp Server Live Demo
Download Time Stamp Server for IIS
(latest version: 4.8)
We are specialized in the development of custom software applications. Time Stamp Server can be customized depending on the needs of your business.
If you are interested in our Time Stamp Server or you need any other customization, please request a quote.
Useful links: